As Valentine's Day quickly approaches, I thought we'd spend a little time talking about how loving ourselves can help us love the neurodiverse in our world better!
How you may be wondering? Through the practice of self-care.
When you hear those words, what comes to mind? Are you successfully implementing it into every day? Do you not know much about it? Or maybe you know about it, but it's a blatant reminder of just how busy you are and how clueless you are in experiencing it for yourself.
Well, regardless of where you find yourself today, let's start at the beginning with the definition of self-care. It is defined as the practice of taking action to preserve or improve one's own health. Another definition states that it is, the practice of taking an active role in protecting one's own well-being and happiness, in particular during periods of stress.
As a neurodiverse caregiver, like me, you probably fully understand the stress that having a neurodiverse loved-one can bring. For me, just yesterday, I got the news that my 3rd grader may be retained because his brain differences are making reading very difficult. If I'm honest, my heart sank, and I felt deflated and sad. He's working so hard, but despite his efforts, he may not be able to stay with his classmates and friends that he's been with since kindergarten. So, it's back to the drawing board as we have a few months left to help him improve.
Your story, situation, or circumstances may be different than mine, but it doesn't change the fact that stress is an unwelcome companion that we wrestle with because we love and care for people living with neurodiversity.
When we think about stress, it's no surprise that it can negatively impact our over health physically, mentally, and emotionally. Mayo Clinic shares this information below…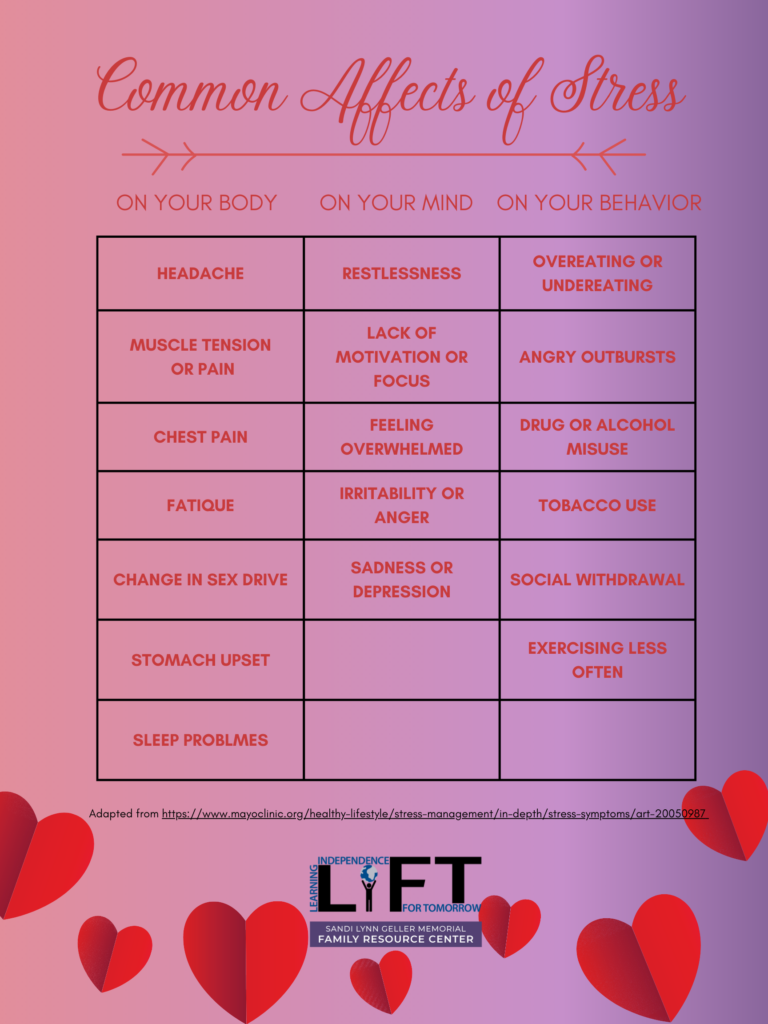 Insightful, right?!
That's why I wanted to share about self-care this month. It has the power to transform not only your health, but the relationships you have with those in your care. But that's not all, it will also have the power to help you live more intentionally from a fullness and wholeness because you're making time for you.
In an article on verywellhealth.com- What is Self-Care and Why is It Important– it shares that these are some of the barriers that prevent people from prioritizing self-care. Which ones below can you relate too?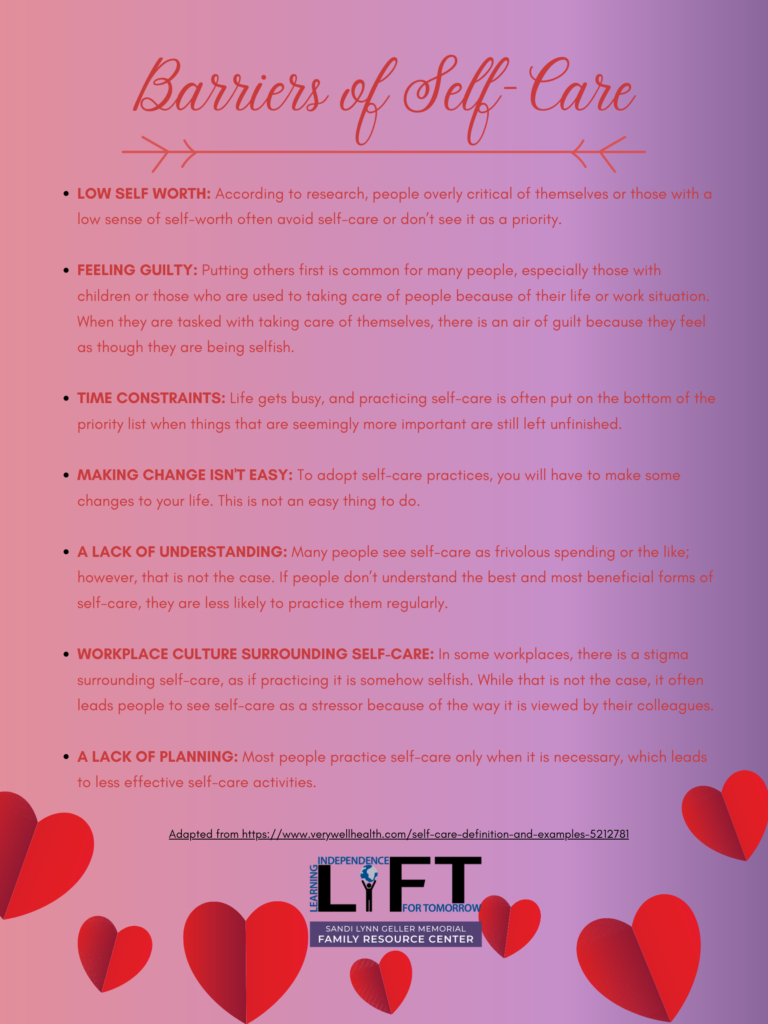 This Valentine's Day season, I hope that you'll take the time to embrace the reality that you are worth some time for you and that it'll help you live your best possible life.
It's been said that,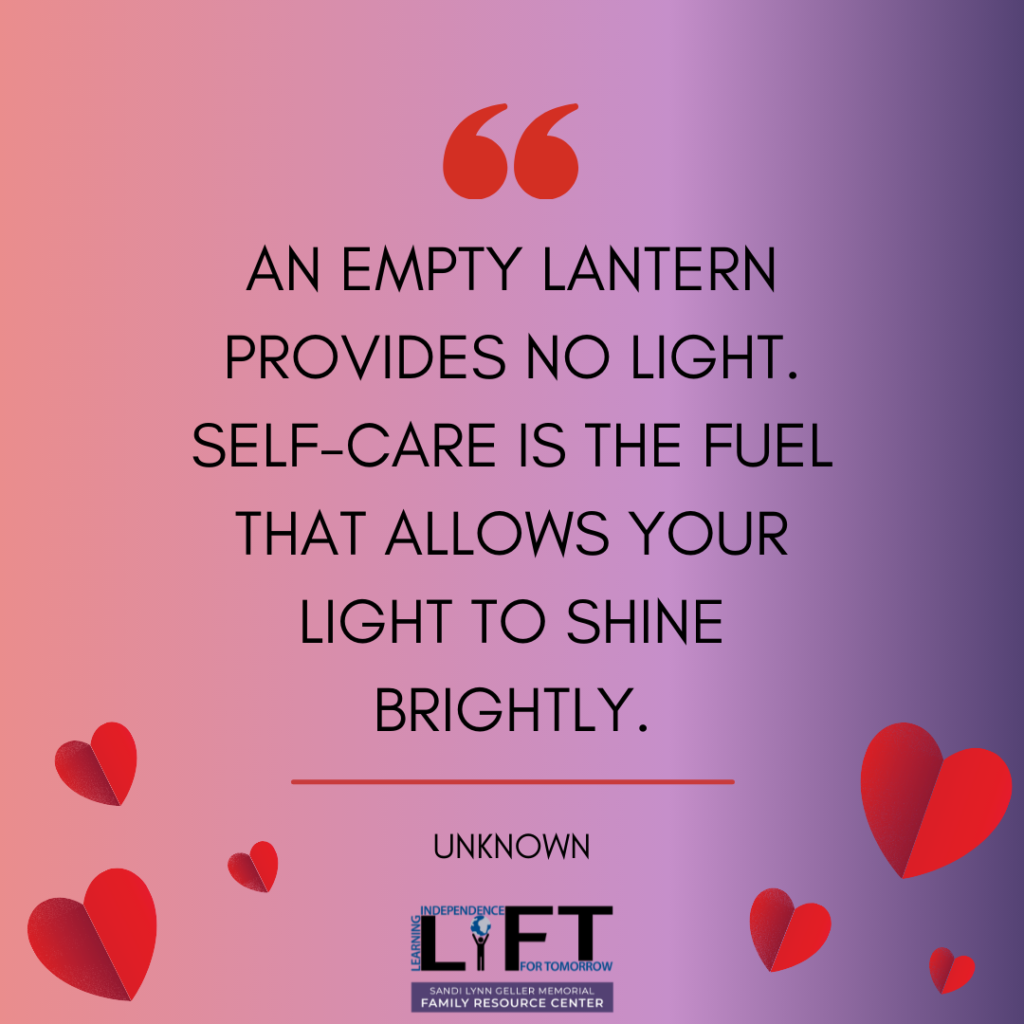 Curious how you're doing, but don't know where to start? Well, this month's resource spotlight is highlighting an incredible counselor Renee Koutras founder of Wholehearted Counseling. She shared this amazing assessment that will help you evaluate how you're doing. Click here to take advantage of this great resource! This assessment is very thorough covering physical, psychological/emotional, social, spiritual, and professional self-care. It also provides incredible clarity on what may help you rest, disconnect, and pour into yourself so you can pour into others. Afterall, it's been said that you can't pour from an empty cup.
The benefits of self-care are far reaching, and this is something that won't just affect you in the short-term but impacts you long-term in life and overall health as well. A friend and I were recently talking, and she was telling me about a podcast that explained, every time you say yes to something you are automatically saying no to something else. Therefore, I encourage you to inspect where you're saying "Yes" so you can determine what may need to turn into saying "No.". Because experiencing refreshment today will fuel your tomorrow as you radiate as the best version of yourself! But these benefits don't stop there.
We've discussed why self-care is so important, you've taken the assessment, and now have an idea of the benefits. Where you can improve your self-care routine to love yourself well knowing this information? Not sure where to start? No problem, read below to learn how to plan it out and really tune into what brings you joy and refreshment so you can be all you were meant to be in the midst of this amazing life you get to live!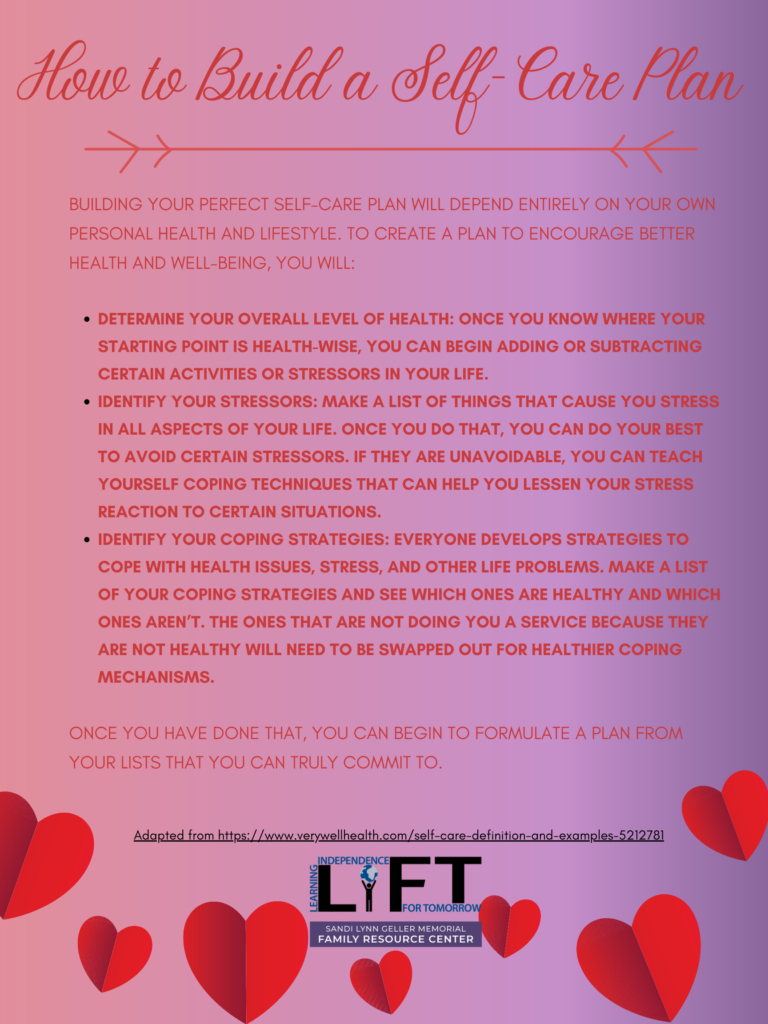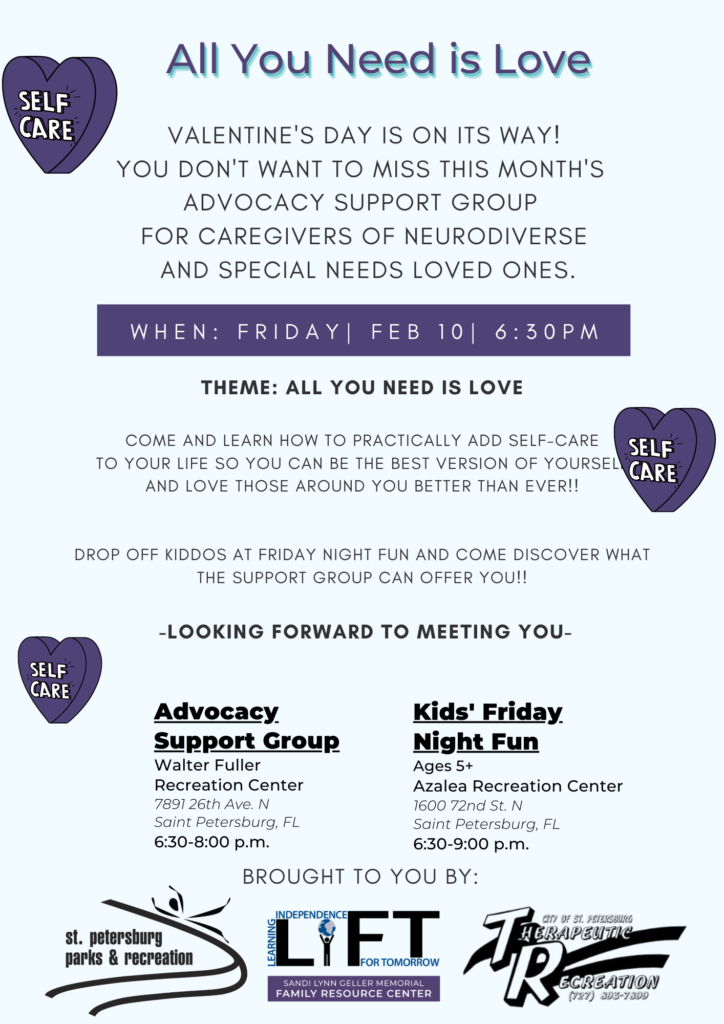 Thanks for reading! Have a great Valentine's Day and make sure to do something to show yourself love too! ❤
Ivory Granger
Family Resource Center Coordinator
The Sandi Lynn Geller Memorial Family Resource Center
www.liftfrc.org