Bene Brown is known for saying, "If you don't want to burnout- stop living like you're on fire."
This quote makes me chuckle, but as a caregiver for a neurodiverse loved one, I'm sure we've all had moments where you may feel like you're running around on fire. If you're like me, you've also realized that it's not good for anyone. To know how to avoid doing something, we have to know what it looks like. Read below to get a better understanding of how to identify what to keep an eye out for…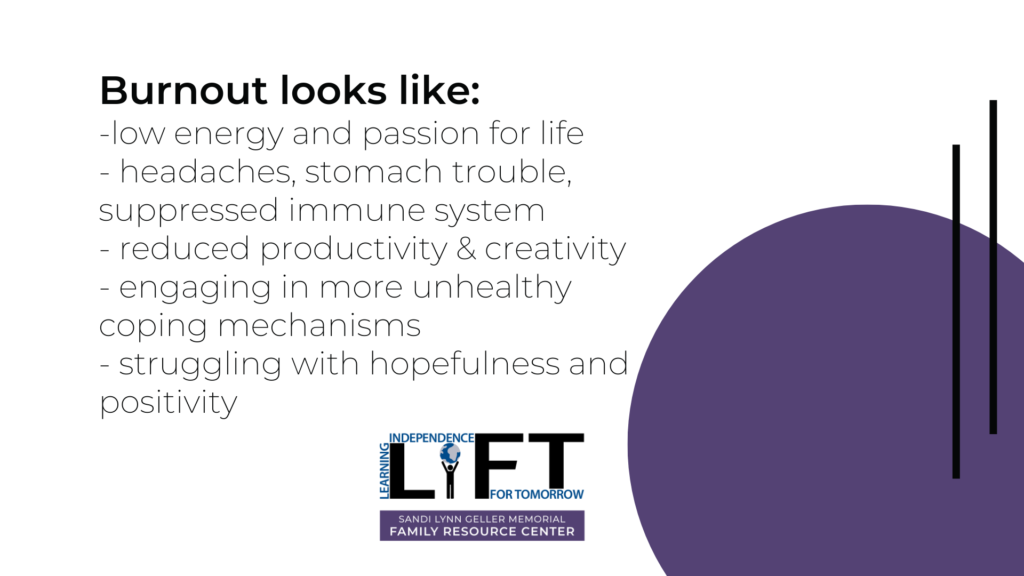 Today, I want to give you tools to help you avoid getting close to burnout this year. To do that, we have to be intentional about putting up guardrails to keep you shining from within and not because you are on fire.
In the article, Caregiver Burnout and Stress on www.helpguide.org, they list 6 ways to avoid caregiver burnout.
Practice acceptance. When faced with the unfairness of a loved one's illness or the burden of caregiving, there's often a need to make sense of the situation and ask "Why?" But you can spend a tremendous amount of energy dwelling on things you can't change and for which there are no clear answers. And at the end of the day, you won't feel any better. Try to avoid the emotional trap of feeling sorry for yourself or searching for someone to blame.
Embrace your caregiving choice. Acknowledge that, despite any resentments or burdens you feel, you have made a conscious choice to provide care. Focus on the positive reasons behind that choice…maybe it's because of your values or the example you want to set for your children. These deep, meaningful motivations can help sustain you through difficult times.
Look for the silver lining. Think about the ways caregiving has made you stronger or how it's brought you closer to the person you're taking care of or to other family members.
Don't let caregiving take over your life. Since it's easier to accept a difficult situation when there are other areas of your life that are rewarding, it's important not to let caregiving take over your whole existence. Invest in things that give you meaning and purpose whether it's your family, church, a favorite hobby, or your career.
Focus on the things you can control. You can't wish for more hours in the day. Rather than stressing out over things you can't control, focus on how you choose to react to problems.
Celebrate the small victories. If you start to feel discouraged, remind yourself that all your efforts matter. Don't underestimate the importance of making your loved one feel more safe, comfortable, and loved!
Once you recognize what burnout is and how to avoid it, we can focus on how we can increase productivity. Productivity measures how efficiently someone completes a task. For our neurodiverse loved ones, productivity can be challenging for them so learning how to do it better ourselves will make us better teachers. Win, win!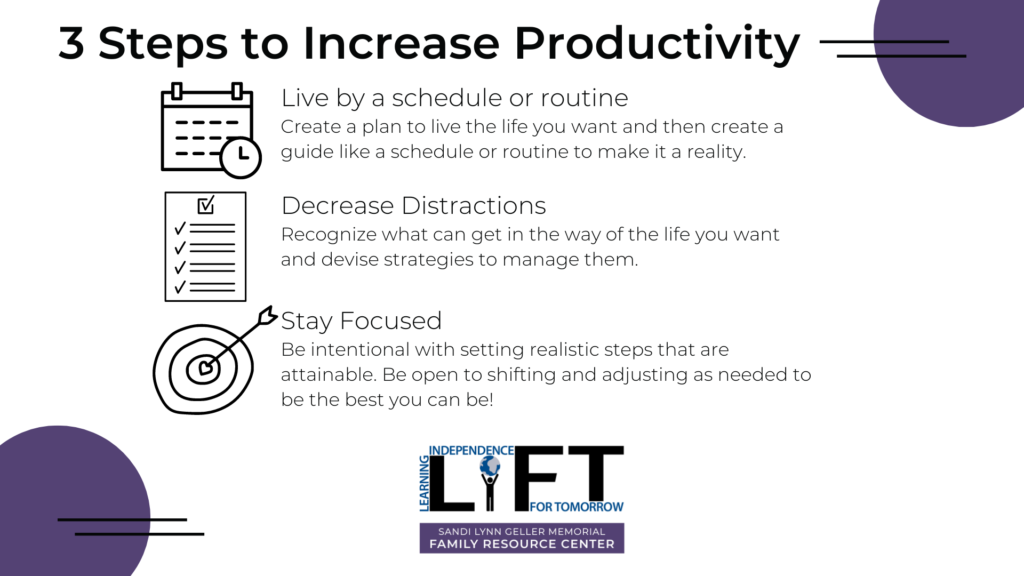 Sometimes, it can be overwhelming to get started. As a caregiver myself, I know how challenging it can be. We know what we want and how we want to get there, but we can have a hard time getting there. As such, the Sandi Lynn Geller Memorial Family Resource Center is in the process of developing coaching groups to help you shine as your best self in 2023. Stay tuned…support is on the way!
2023 is upon us and one of my favorite quotes is, "Your present circumstances don't determine where you can go; they merely determine where you start"—Nido Qubein.
Where do you need to start to shine this year? I hope this month's blog helps you determine where you can begin so you can radiate!
Making it the best year yet,
Ivory Granger
Family Resource Center Coordinator
Learning Independence For Tomorrow (LiFT)
Sandi Lynn Geller Memorial Family Resource
www.LiFTFRC.org