September is here! We hope you're getting in the groove with your fall schedule as summer fades away. As we head into this time of year, many of us have learners and we would benefit from ways to make this school year rock!
Dana Kollman, experienced educator, reading tutor and founder of Actually Learn It shares our main points today from her experience and space working with the neurodiverse community. She says,
"Neurodiverse children are intelligent and creative individuals, but they need assistance working out their learning and attention issues. Some have difficulties with ADHD (trouble focusing), autism spectrum disorder, dyslexia, dysgraphia, and other learning disabilities. Determining how to help is not a 'one-size-fits-all' approach."
As a neurodiverse caregiver, you are very aware of the reality that one size truly does not fit all. However, there are ways we can support our learners, no matter their age or stage. There are things that we can do to help them be successful this fall so they can learn, thrive, and succeed.
Dana explains that one of the best ways to help is by setting up routines.
A parent/caregiver can assist the child by focusing on executive functioning skills (e.g., planning, focusing attention, completing multiple tasks, and remembering directions). Parents/caregivers can help transfer these from the classroom to home by: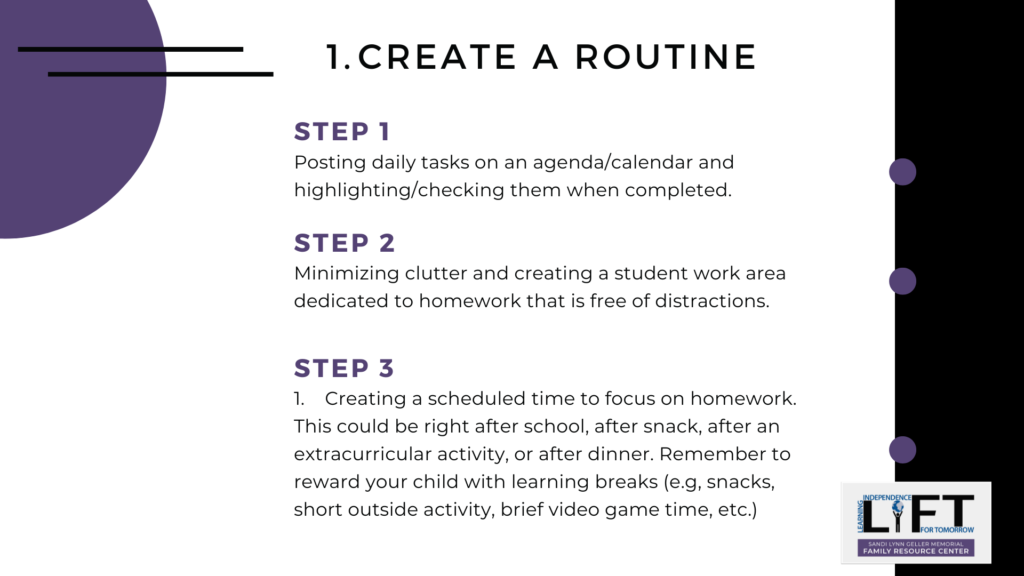 Understood.org, one of my favorite places to find great information and support, shared this article Download : Picture Schedules for Daily Routines. Picture schedules can be very effective for your learner this year, whether they are in school or you're trying to help build independence at home. Images of their daily routines can help things run smoother during this transition period as everyone is adjusting to getting back to the "school or fall schedule."
If the picture schedules just aren't working, there are also amazing apps and programs that can help your child or adult with this as well. Goally, is an app for children that becomes what they refer to as a "parent assistant." This app helps learners through the big and small stuff with visual schedules, built-in token board system, and picture communication. It's a great resource for kids. They say, "Stop nagging. Get a visual schedule for kids that actually works." Check out these stats: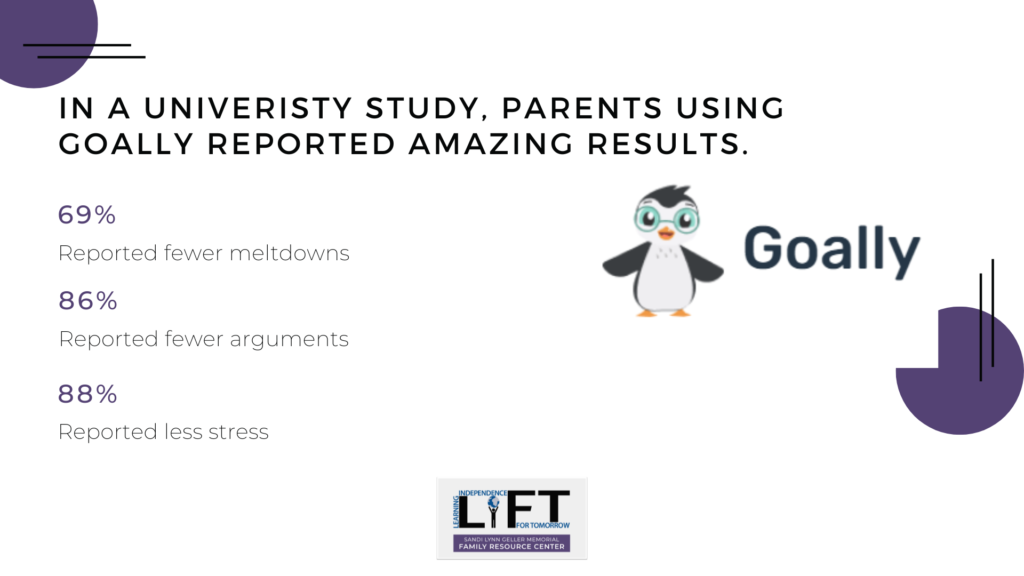 When I read these, I thought, "Wow…Where do I sign up? One of our phenomenal LiFT Academy Teachers recommended this to me, and I was elated to learn about it for our family, but also for yours.
For our neurodiverse adults there is a fantastic app called tiimoapp.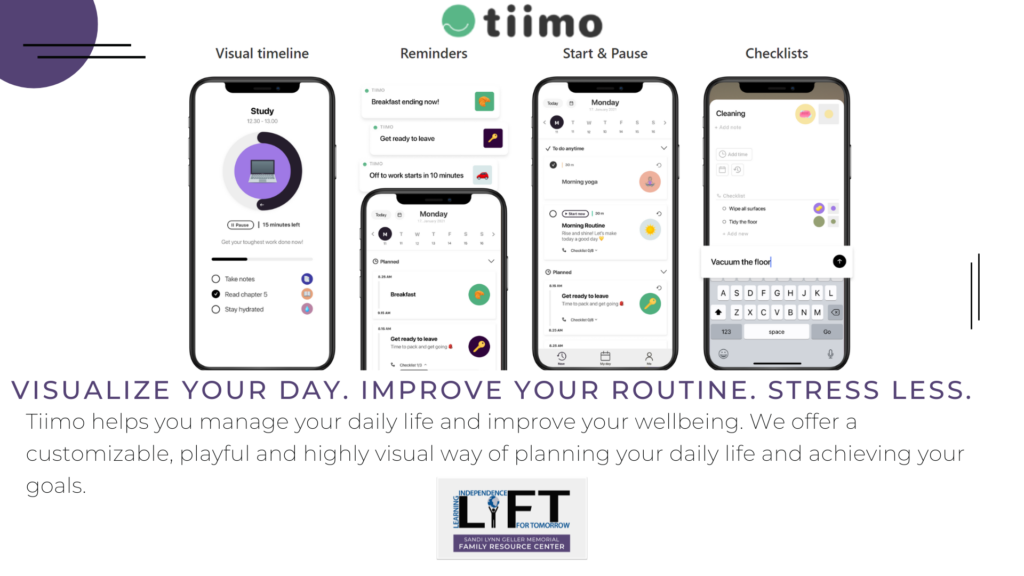 Interested in learning more from someone who benefits from this app personally? You can read about this neurodiverse users personal experience here.
Setting up a routine is important and can really play a big part in our neurodiverse loved ones rocking this year.
Dana's second suggestion is to
Inquire about your child's type of learning intelligence
Along with neurodiversity, come strengths. Howard Gardner's theory of multiple intelligence is a schema for understanding how your child learns. Determine your child's strength(s) to understand how he/she learns (sample multiple intelligence inventory). To break this down further, your child may be any or a combination of the types of intelligence listed below…find that list here.
Knowing how the neurodiverse loved-ones in your life learn, can not only help them in their school setting, but also at home as you teach other life lessons. For example, if you know your learner is more visual then using flashcards, memory games, or highlighting and underlining during homework can really help things stick. Alternatively, if they have more kinesthetic intelligence (hands-on learning, athletic) learning may be more successful standing up or moving instead of sitting still. Let them dance or dribble a basketball when recalling facts and you may find that they stick even better.
Discovering learning intelligence can change the game this school year!
Dana also suggests to help you rock this school year is to make sure learners get the same accommodations at home that they get at school.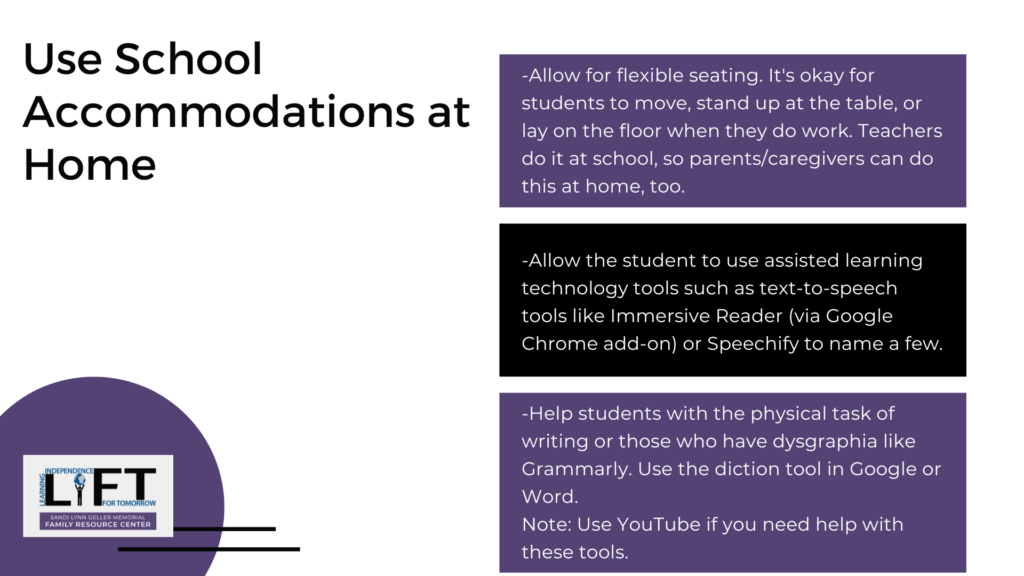 What great tips and tools to use this year, right? Could you benefit from Dana's knowledge as a tutor? Get all of her information over at this month's Resource Spotlight page.
If you would like to meet her and learn from another amazing resource Florida's Diagnostic & Learning Resource System about how to rock this school year, don't miss our next Advocacy Support Group. Details are below: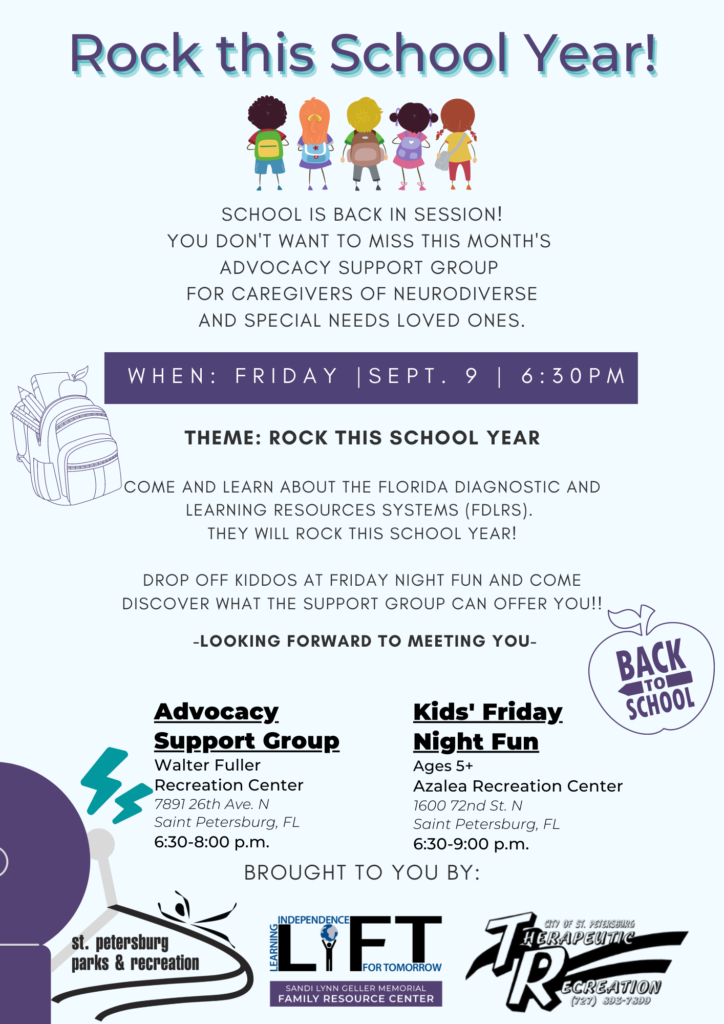 I hope this blog post helps equip you to rock this upcoming school year!
We are here to help support you and look so forward to making it the best school year yet!
Until next month,
Ivory Granger
Family Resource Center Coordinator
---
[SN1]Enhance