November is here, and with it cooler temperatures and a briskness in the air. If you're like me, you may be getting out your boots, unpacking your sweaters and corduroys, and getting out your jackets, scarves, and hats in preparation. Yes, we do that in Florida too! For many, this time of the year is sweet as we look forward to starting the holiday season with our friends, family, and loved ones. Anticipation is rising, planning has begun, and organization is in full swing as we get ready for Thanksgiving and the upcoming holiday season.
However, for some, the expectancy can bring anxiety, stress, and trepidation. Given the current realities of what many are facing with the pandemic (and all the conflict, division, and strain it has produced) can feel a bit heavy this year. Combine this with the different dynamics that come from living with someone with neurodiversity, and the increased responsibilities of your loved one being out of school for this season, can quickly become a "complex" situation.
While it's important to recognize, acknowledge, and feel our negative and positive emotions given the current climate, I'm learning that I can't let the negative take up too much mind space. While A LOT of weighty things may be happening around us, they don't have to bog us down… In fact, if we challenge ourselves to be grateful by focusing on the good things, in the midst of the challenging moments, situations, or circumstances; we increase our chances of going into this Thanksgiving season as recipients of the powerful impact a grateful perspective can create.
My husband often says, "Your perspective shapes your reality." Finding reasons to be thankful, even through the hard stuff, can change everything. At LiFT, our motto is Change a Life, Change the World. In practicing gratefulness, you have the power to influence someone else, and that can usher in a wave of change that could impact the world.
So, how do we start to develop an attitude of gratitude and experience the change that awaits us and those around us? One way is by A.C.E.ing our way through it. How you may be wondering?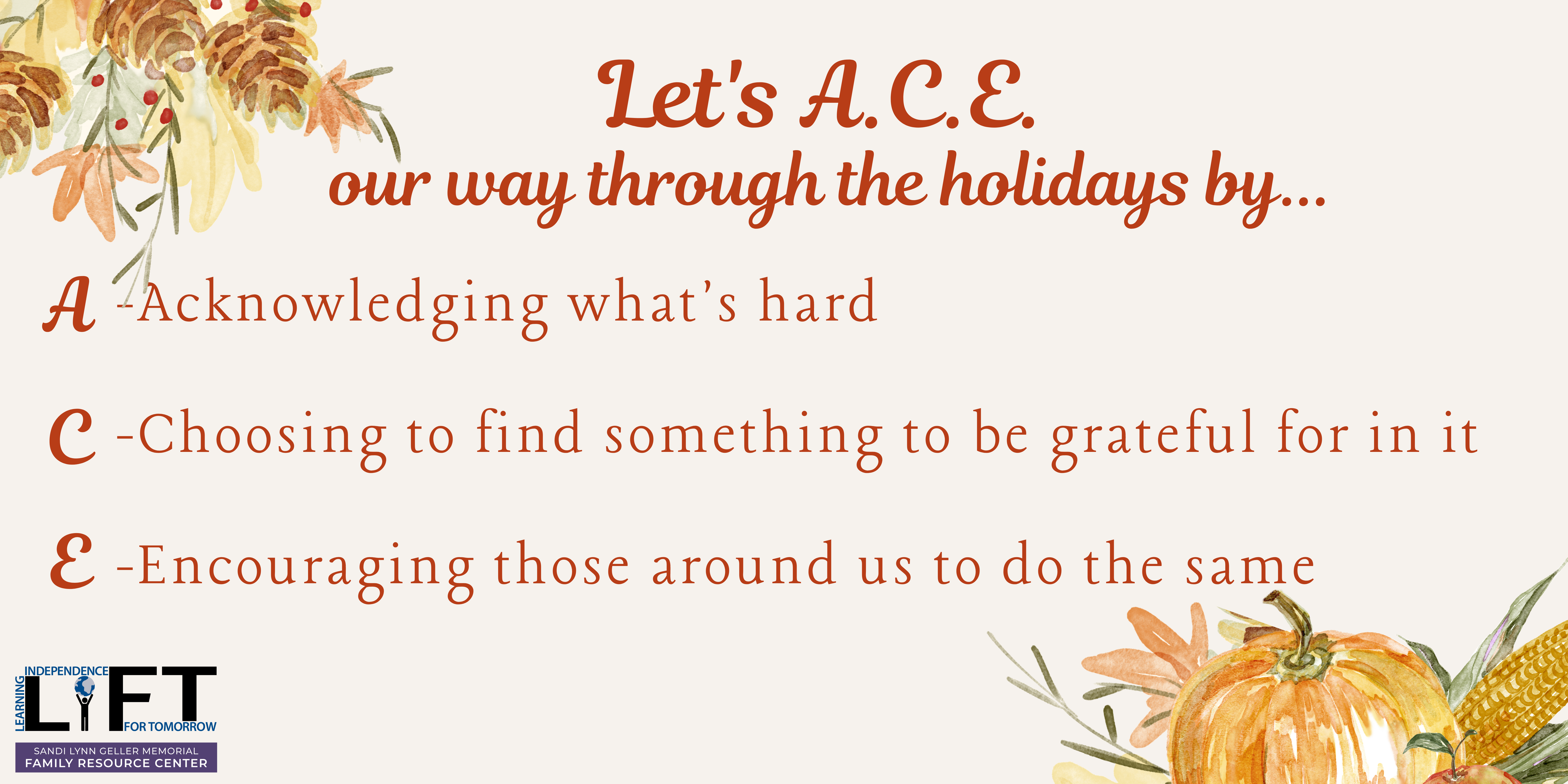 Recently, I was provided an opportunity to apply this principle. My sweet, silly, and big-hearted boy was teased for taking a minute to process some group work at school. His classmates started to make fun of him, asking him why his brain was having so many "brain farts". This hurt his feelings, made him feel dumb, and ultimately drove him to retreat in tears. When I got the text from the teacher, my heart broke for him. Thankfully, his teacher is AMAZING, and she stepped in and handled it beautifully. Suddenly, A.C.E came to mind, and so I want to share how it helped change our perspective and how gratefulness helped changed everything for me and my son that day.
I could have responded in hurt and anger, frustrated that my child had to deal with this; and I'll be honest, it was tempting. Or I could A.C.E. it by 1. Acknowledging that what happened to him was painful, unfair, and unfortunate. Then 2. Choose to find something I could be grateful for in the situation. In our case, I was grateful for the opportunity to pour into my child and help him see how his learning differences are okay and help him realize his value while boosting his confidence. Together we focused on how grateful he could be for such a fantastic teacher and for his classmate's apology. Finally, 3. I encouraged him by telling him how grateful I was for having such a strong son who would go back to school the next day and do the hard, but right thing. Forgive the students who were unkind, show them what kindness really looks like, and work as hard as he could. We all learn different at times, and that's okay. Whew, potential crisis averted! After walking through this together, we both ended up in a better frame of mind as we A.C.E.'d our way through this challenge. I can honestly say, it did change everything and made me so proud to watch him shine.
It's fascinating how gratefulness can affect our perspective and help us better handle the difficulties we face. But did you know that an attitude of gratitude has many other benefits? Please check out my top picks from "31 Benefits of Gratitude: The Ultimate Science-Backed Guide" and read all 31 benefits listed in their article.
The power and potential that gratefulness can add to our lives is unbelievable. I hope this blog will inspire and help you make the most of this holiday season as we A.C.E our way through it and life. Who's up to testing these theories and seeing if gratefulness can change everything for us and our neurodiverse loved ones? Because, after all, when we really think about it, we have so much to be thankful for, don't we?
Looking for support with this? Join our Neurodiversity & Autism Family Resource Group on Facebook to have an opportunity to post about something you're grateful for the month of November as we provide daily Thankfulness Journal Prompts.
Don't forget to check out this month's Resource Spotlight, Lighthouse Pediatric Therapy Partners. They provide a range of therapy and family support that is sure to boost your gratefulness because of the amazing work they are doing for families just like yours.
I hope you have the Happiest Thanksgiving!!
Thanks for reading!
Until next month,
Ivory Granger
Family Resource Center Coordinator
The Sandi Lynn Geller Memorial Family Resource Center
www.liftfrc.org