As Valentine's Day quickly approaches, I thought we'd spend a little time talking about how loving ourselves can help us love the neurodiverse in our world better!
How you may be wondering? Through the practice of self-care.
When you hear those words, what comes to mind? Are you successfully implementing it into every day? Do you not know much about it? Or maybe you know about it, but it's a blatant reminder of just how busy you are and how difficult it can be to implement it.
Well, regardless of where you find yourself today, let's start at the beginning with the definition of self-care. It is defined as the practice of taking action to preserve or improve one's own health. Another definition states that it is, the practice of taking an active role in protecting one's own well-being and happiness, in particular during periods of stress.
If you're a caregiver to the neurodiverse, like me, you probably understand the stress that having a neurodiverse loved-one can bring. 'Our stories, situations, or circumstances may be different from each other, but it doesn't change the fact that stress is an unwelcome companion that we wrestle with.
Stress unaddressed can look like…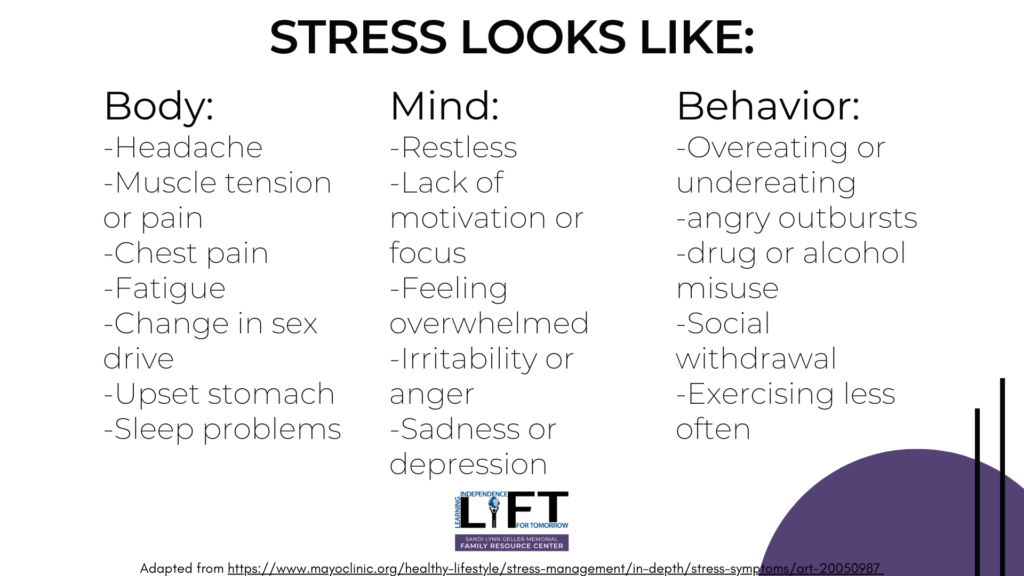 We can clearly see why it's important to manage our stress. Are you curious how you're doing, but don't know where to start? This amazing assessment that will help you evaluate how you're doing. It is very thorough covering physical, psychological/emotional, social, spiritual, and professional self-care. It also provides incredible clarity on what may help you rest, disconnect, and pour into yourself so you can pour into others. Afterall, it's been said that you can't pour from an empty cup.
Now that you have some clarity on where you are. You can devise a self-care plan to help you put this knew found knowledge into practice.
Be aware, you can have a plan, but to be successful it's helpful to know what obstacles could stand in the way.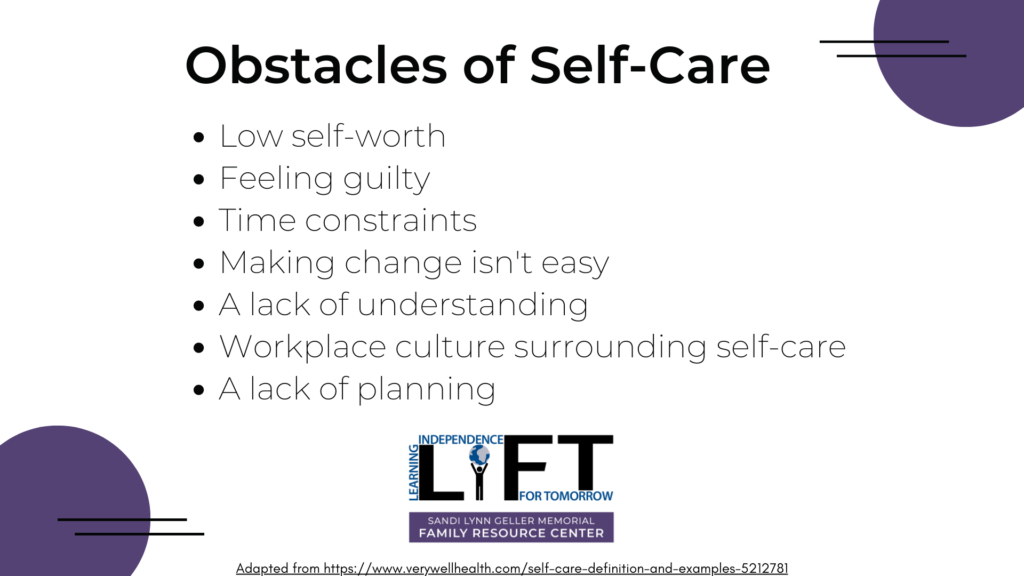 If you can plan around these and finds ways to incorporate more self-care you'll realize that slowing down makes you more productive. That it can boost your immune system, improve your self-compassion, help you discover who you really are, and it will impact how you give to others.
It takes intentionality, but YOU are worth it. Will you read that out loud? I. Am. Worth. It! Can I encourage you to take a few minutes during a quiet moment and create a plan that can literally change your life?! You can take that first step today, and I hope you will. Need some more suggestions for self-care because you aren't sure where to start? Simply searching "self-care ideas" on the internet will provide many options.
Thanks for reading! Have a great Valentine's Day and make sure to do something to show yourself love too! ❤
Ivory Granger
Family Resource Center Coordinator
Learning Independence For Tomorrow (LiFT)
Sandi Lynn Geller Memorial Family Resource
www.LiFTFRC.org