Event Details
Date: March 19, 2023
Time: 10am-2pm
Location: AL Lopez Park – 4810 N Himes Ave, Tampa, FL 33614
Event Link:
https://helpusgather.org/event/world-down-syndrome-day-picnic/
Event Description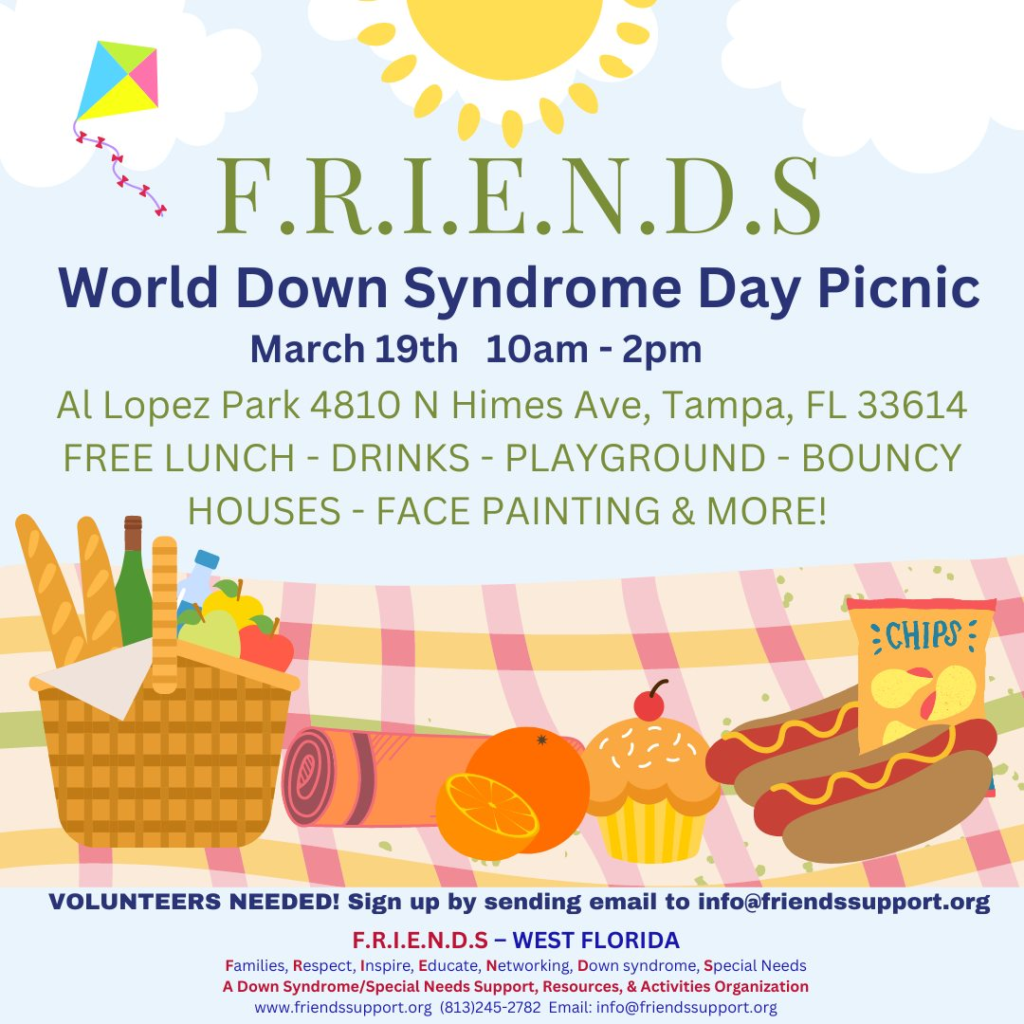 This event is hosted by F.R.I.E.N.D.S. West Florida
.
WDSD PICNIC
Sunday, March 19, 2023⋅10:00am – 2:00pm
Al Lopez Park
4810 N Himes Ave, Tampa, FL 33614, USA
.
WORLD DOWN SYNDROME DAY
In 2006, The Down Syndrome Association of Singapore launched the WDSD website as there was so little information available about Down Syndrome available to the general public.
.
In 2012, World Down Syndrome Day, 3/21 was officially observed by the United Nations to raise awareness of Down Syndrome. 3/21 signifies the uniqueness of the triplication, (3) trisomy of the 21st chromosome, which is the cause of Down syndrome.
.
FRIENDS invites all who have down syndrome/special needs to join us for a fun picnic in celebration of World Down Syndrome Day.
.
Sunday, March 19th 10am-2pm
AL Lopez Park – 4810 N Himes Ave, Tampa, FL 33614
.
Free Lunch, Drinks, Playground, Bouncy House, Face Painting & More.
.
VOLUNTEERS NEEDED! Sign up by sending email to info@friendssupport.org.
.
F.R.I.E.N.D.S – WEST FLORIDA
Families, Respect, Inspire, Educate, Networking, Down syndrome, Special Needs
A Down Syndrome/Special Needs Support, Resources, & Activities Organization.
www.friendssupport.org (813)245-2782
Email: info@friendssupport.org