Event Details
Date: November 4, 2022
Time: 2-4pm
Location: HUG Office 1180 Ponce De Leon Blvd., Suite 201 Clearwater, FL 33756
Event Link:
https://helpusgather.org/event/hugs-pie-judging-contest/
Event Description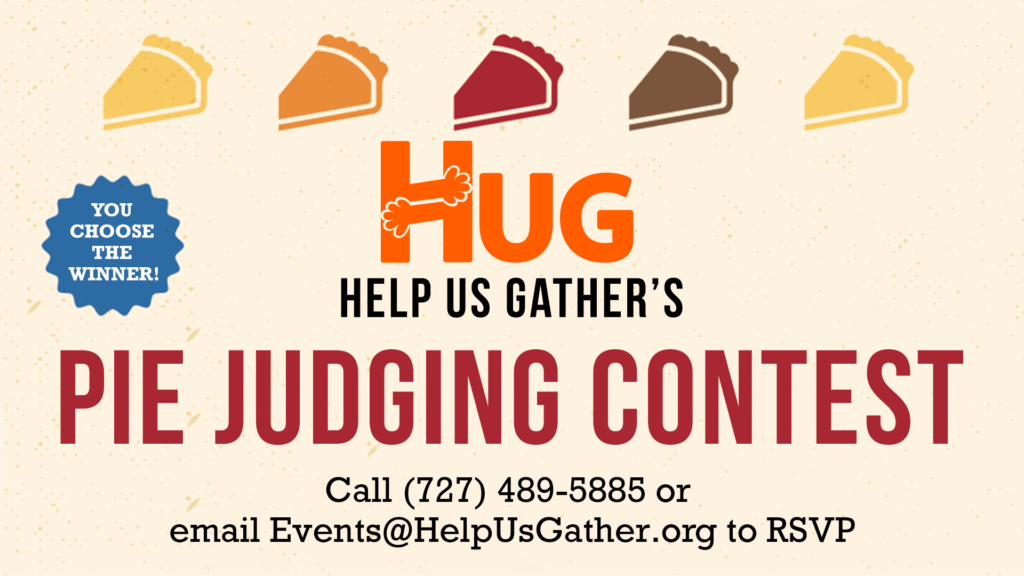 This event is hosted by Help Us Gather
.
This is a delicious competition you don't want to miss!
Join HUG for a secret taste test and vote for your favorite Thanksgiving pies at the HUG office on Friday, November 4th.
.
As a HUG pie judge, you will get to test four pies and give them a 1-to-5 rating, based on Appearance (does the pie look nice?), Crust Taste, Inside Filling Taste, and Creativity (is the pie unique?) When you are eating and rating the pies, you will not know who baked the pie — we run a fair competition here at HUG! After all the judge's scores are added up, we'll reveal who baked each pie and crown HUG's Thanksgiving Pie Champion!
.
RSVP by calling the HUG office at (727) 489-5885 or emailing Events@helpusgather.org.
.
As always, HUG events are free for our friends with disabilities and a guest. If you would like to bake a pie and compete in the contest, please let us know!