Event Details
Date: April 23, 2022
Time: 6-9pm
Location: 4801 E Fowler Ave, Tampa, FL 33617
Event Link:
https://helpusgather.org/event/get-your-glow-on/
Event Description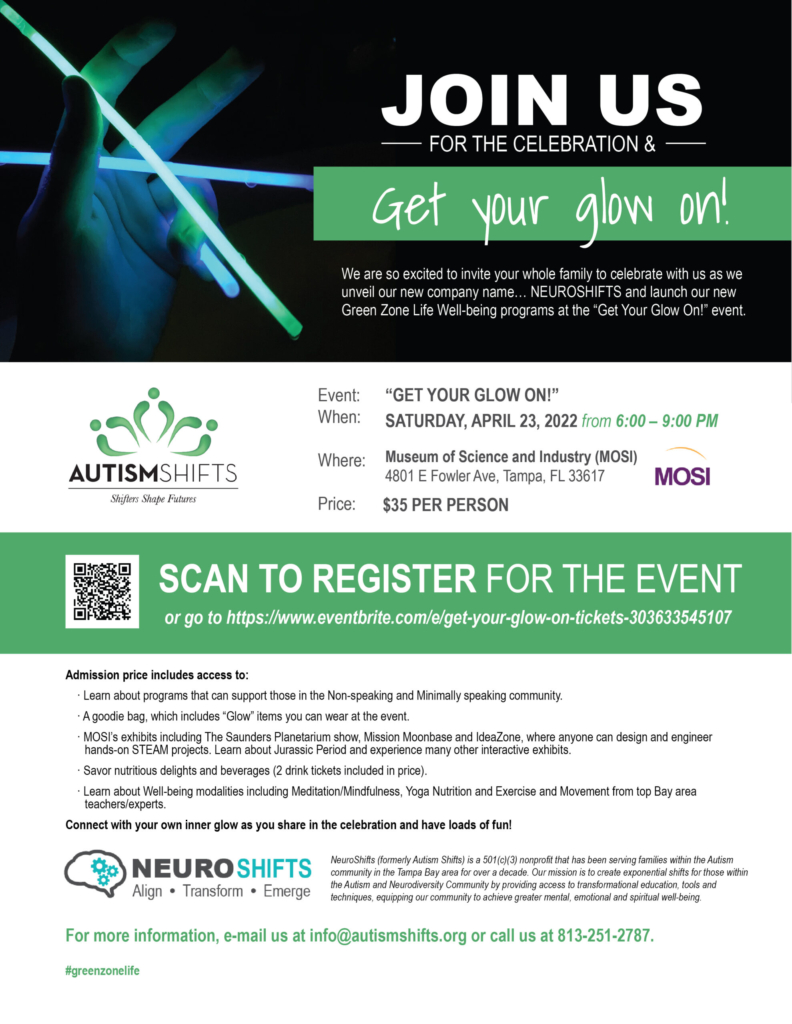 his event is hosted by Autism Shifts
We are so excited to invite you to celebrate with us as we unveil our new company name… NEUROSHIFTS and launch our new Green Zone Life Well-being programs at the:
"GET YOUR GLOW ON!" Event
When: Saturday, April 23, 2022 from 6:00 – 9:00 PM
Where: Museum of Science and Industry (MOSI)
4801 E Fowler Ave, Tampa, FL 33617
Price: $35 per person
Admission price includes access to:
A goodie bag, which includes a FREE "Get Your Glow On" tee-shirt, plus other glow items to be worn at event and a free drink ticket.
Access to MOSI's exhibits including The Saunders Planetarium show, Mission Moonbase and IdeaZone, where anyone can design and engineer hands-on STEAM projects. Learn about the Jurassic Period and experience many other interactive exhibits.
Food from some of Tampa's favorite restaurants.
Learn about Well-being modalities including Meditation/Mindfulness, Yoga Nutrition and Exercise and Movement from Bay area teachers/experts.
Your own inner glow as you share in the celebration and have loads of fun!
Autism Shifts is a 501(c)(3) nonprofit that has been serving families within the Autism community in the Tampa Bay area for over a decade. Our mission is to create exponential shifts for those on the Autism spectrum by providing access to transformational education, tools and techniques, thus equipping our community to achieve greater mental, emotional and spiritual well-being.