Event Details
Date: May 14, 2022
Time: 10am-12pm
Location: LOCATION: We Rock the Spectrum.Address: 12505 Starkey Rd. #H, Largo FL 34655
Event Link:
https://helpusgather.org/event/babyfriendslargo/2022-05-14/
Event Description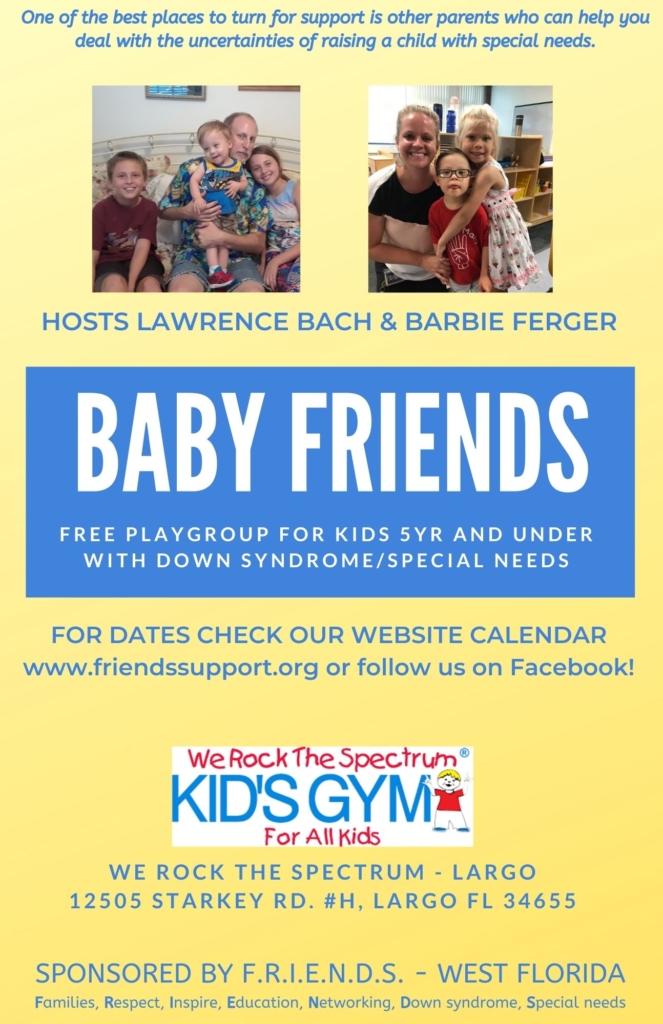 This event is hosted by F.R.I.E.N.D.S. West Florida
A FREE special needs playgroup (birth to 5yrs) for families that have children with Down syndrome or other disabilities.Baby Friends is a great way to connect with other parents, while the kids play and make lifelong F.R.I.E.N.D.S.!
HOSTS: Barbie Feger and Lawrence Bach.
LOCATION: We Rock the Spectrum.Address: 12505 Starkey Rd. #H, Largo FL 34655
Day: SaturdaySPONSORED BY F.R.I.E.N.D.S. Down syndrome/Special needs – West Florida is a 501c3
Non-profit that provides our Down syndrome/Special needs community vital resources, yearly programs, and fun activities. Learn more by logging onto our website, www.friendssupport.org, or call (813)245-2782.