Before we know it, spring will be here. Flowers will be blooming, what seemed lifeless will start flourish, and the rain showers will bring an abundance of growth and beauty. As this season envelopes us with its beauty and hope, it initiates an anticipation in me to create those same type of virtues in my life.
I don't know about you, but as a neurodiverse caregiver, if I'm being honest things can be dull, hard, and exhausting. For years, I didn't know how to bloom where I was planted. Getting the diagnosis, letting the reality of having a neurodiverse loved-one weighed on me as the reality set in. Would I be able to provide for their needs? Would I know how to adapt and adjust? There were very real questions and concerns that plagued me. Can you relate?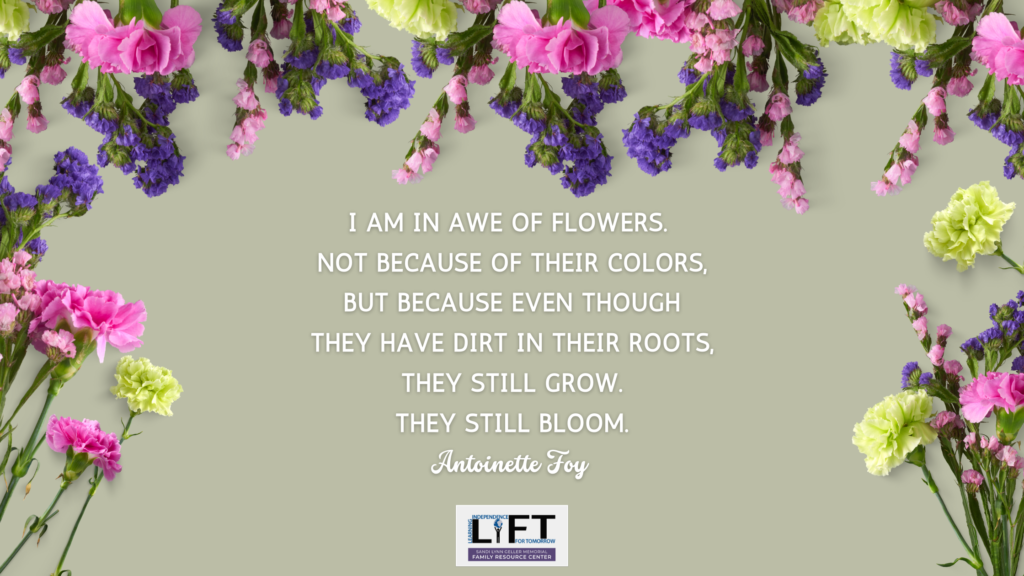 As a neurodiverse caregiver, I've had to change my perspective a little bit. I've had to recognize the dirt that covers us at times with its pressures, heaviness, and burdens can– if we allow it– to be the perfect environment to help us grow. The tension that neurodiversity can bring doesn't hinder us from blossoming. The rain may come. The tough times are inevitable. But they can help us flower into something beautiful. I want to invite you to join me on this adventure… to blossom where you are planted because as Cross M. Pens says, "All of the flowers of all the tomorrows are seeds of today.
As a neurodiverse caregiver you may have learned that, "When a flower doesn't bloom you fix the environment in which it grows, not the flower." -Alexander DenHeijer
That can be challenging especially when you don't know where to start or where to go for help and support. But that's why we at the Sandi Lynn Geller Memorial Family Resource Center– a program of LiFT– exist. We desire to give people access to the resources, support, and service providers which can help you and your loved ones bloom no matter where you're planted!
Our community partner directory offers information about social activities, provides health and wellness providers, and offers information about legal and financial support as well.
There will be hard days, difficult situations, and times where you feel completely inadequate… but as Xan Oku says, "May the flowers remind us why the rain was necessary."
Every storm or challenging circumstance is an opportunity for growth, development, and progression. When we've gotten through it, and we see how it taught us, embrace what we learned, we can celebrate our development. Barbara Johnson encourages us to: