It's fall y'all and one of my favorite times of the year because autumn brings the beginning of some of my most cherished holidays and some of the best weather. I love the smells, the colors, and all the fun things to do!!
I don't know about you, but there have been times as a mom of neurodiverse children that I have shied away from the opportunities and activities different seasons gift us. I wanted to avoid the potential stressors that could come when trying to make sweet seasonal memories with my non-typical children.
The word potential played a big part in my decision making when it came to getting out and enjoying social activities with my family. Who knew a nine-letter word could have so much power and keep me from experiencing so much joy: all based on what could possibly happen? For me, I let that word and all it carried keep me from setting out on adventures with my kids. But eventually, I started venturing out and realized that those potential concerns are things that parents of typical children worry about too (maybe not to the same degree), but it doesn't stop them from enjoying a cup of warm apple cider together, walking hand in hand or side by side picking out the perfect pumpkin at a pumpkin patch, or taking a hayride all cozied up together. So, I concluded, it may be a bit complicated, but totally worth it in the long run to make a neurodiverse social life a thing.
Our Resource Spotlight author this month, Alyssa Elsner, the Therapeutic Recreation Program Supervisor for St. Pete Parks and Recreation Department, made a great point as I spoke with her about this month's blog post. It so resonated with me, that I had to share it with you. She said, "When we don't go out and participate in social activities and events, we are not just depriving our kids and ourselves, but also the opportunity for others to interact, practice inclusion, and get to know them." WOW, so powerful, right?!
I often tell my boys that their neurodiversity is like superpowers that their sidekicks (me as mom and their dad, family members, teachers, therapists, tutors, specialist, etc.) help them learn how to hone and develop. These amazing children should be given the same opportunity to enjoy life, go on adventures, and make memories with their loved ones if simply for the world to see them for all they are… just as valuable, needed, and important as the typical child.
At LiFT, our mission is to inspire and empower people with neurodiversity to learn, thrive, and succeed. We want to invite you to join us in accomplishing that mission by sharing some tips and tools on how to create a social life that you and the neurodiverse loved ones in your lives can benefit from, enjoy, and that will leave you with life-long memories this fall. You can share your tips and tools by clicking here! You can read our tips and toosl below!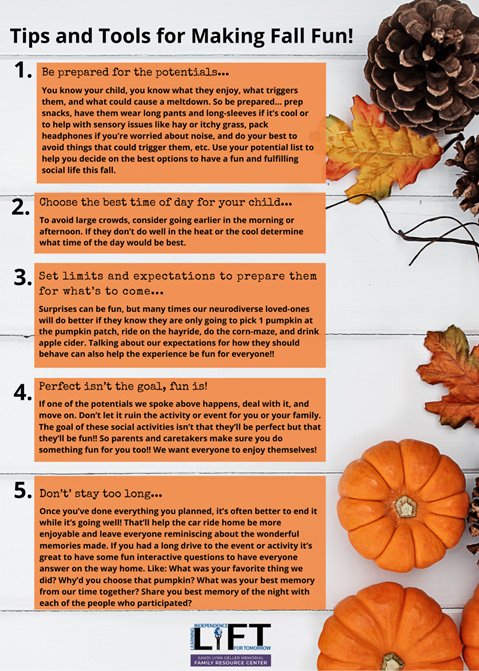 I hope these tips and tools will inspire you to take the leap, get out there, and start making sweet memories with the neurodiverse superheroes in your life this fall! Let's together make a neurodiverse social life and thing and go out and enjoy the best this season has to offer!
Not sure where to start? Here are some of my top picks for fall social activities that are happening in our area. Please see the link at the bottom for the full list!
LiFT Your Heart, one of LiFT's micro-business, will be at Gallagher's Pumpkin Patch, listed below, on Saturdays and Sundays: 1-8pm and Thursdays and Fridays: 4-8pm from now until Oct. 31st so stop by and see all they have to offer and get started on your Christmas shopping early this year!
Opens September 25, 2021
7401 4th St N, St. Petersburg, FL 33702
Located in St. Pete for more than 30 years, this family-owned business is the perfect spot to capture super cute photos of your little pumpkins while you select the best of the 'patch' for your home at their pumpkin patch! You can also pick up a yummy homemade pie and even feed goats in the goat pen. Before you leave, be sure you snap a photo in front of the popular vintage pick-up truck. Although there is no charge to take pictures, a reservation for a photo is required. Learn more here. If you check out their Instagram page, there are so many cute inspiring photos and lots featuring our furry friends since the lot is dog-friendly!
Raprager Family Farm Fall Pumpkin Festival
September 25 – October 30, 2021, Fri-Sat: 9am-9pm, Sun: 9am-7pm
16907 Boy Scout Rd, Odessa, FL, 33556
Cost: $12.50 ages 3 and up, children 2 and under are free
Enjoy a day at this family-owned Tampa Bay area pumpkin patch along with fun activities like a haunted children's crop maze, hayrides, animals and more! They've expanded activities for 2021 with live acts, a gem mining station, new vendors, and more. They even have a haunted barn for the older kids and adults! Learn more: funfamilyfarm.com
Sweetfields Farm Fall Pumpkin Patch, Corn Maze and Farm Activities
October 2-3, 8-11, 15-18, 22-25, 29-31, November 6-7 2021
17250 Benes Roush Rd. Masaryktown, FL 34604
Cost: $9.75 + tax ages 3 and up, 2 and under are free
Come out for corn maze fun at Sweetfields Farm in Masaryktown, but stay for the Pitcher Pump Duck Race, hayride, pumpkin patch, farm animals and free craft of the season. sweetfieldsfarm.com
Watermelon Swim's Annual Fall Festival & Pumpkin Patch
Pumpkin Patch, Open Daily all October
Fall Festival – Saturday, October 16th, 2021, 4pm-7pm
Various locations in Tampa. See website.
It's watermelon season, Tampa Bay! And Watermelon Swim's annual FREE Fall Festival at their Lutz and South Tampa locations are more not-so-spooky fun than ever. Featuring trunk-or-treating, a costume parade, plenty of fall games and prizes, the cutest fall photo spot and more. Plus, their annual FREE Pumpkin Patch will open October 1st and is open all month long! Pick your perfect pumpkin at any of their 4 locations with Lutz and South Tampa featuring a large outdoor patch. It's the perfect way to get your whole family into the fall spirit. watermelonswim.com
Sensory-Friendly Halloween Spree at Glazer Children's Museum
October 25, 2021, 10am-1pm
Cost: $5 non-members, free for members
Bring your little ghouls and goblins to GCM to enjoy safe indoor trick-or-treating, spooky crafts, costume parades, and the annual Team GCM Pumpkin Decorating Contest! Your little ones will be able to explore the museum with the lights and sounds turned down and sensory adapted tools. GCM participates in the Teal Pumpkin Project so keep an eye out for stations with teal pumpkins, where your little ones will receive non-edible goodies. Glazermuseum.org
Sensory Guppyween at The Florida Aquarium
October 30 from 8am-9:30am
Cost: $10 ages 3 and up, Free for children under 2
Monster mash – it's an aquarium smash! Kiddos can dress up in their favorite costumes and explore the Aquarium during this special sensory-friendly event. Head up to the Mosaic Center to experience sensory-friendly Halloween games, creepy critter encounters, visits from their resident Mad Scientist and more. flaquarium.org
Find the full list here.
Let's make the most of this season with some social activities that will give us memories that will last a lifetime!
Thanks for reading!
Until next month,
Ivory Granger
Family Resource Center Coordinator
The Sandi Lynn Geller Memorial Family Resource Center
www.liftfrc.org
---