Education, for a parent or caregiver of a neurodiverse student, is often on the top of the list of things to do (or figure out) after a diagnosis. We want to what is best for our children and so we study, read, listen, and research to provide what they need to thrive, grow, and develop to be the best version of themselves. But understanding our options with Individual Education Plans (IEP), 504s, and Individual Support Plans (ISP) can be a bit overwhelming to say the least. However, knowing what our options are can provide a HUGE sense of relief and can help us in figuring out the best for ourselves, our student, and our family. Trust me, I know, I have had to figure it out for two of my three children. It's a process, but I want to help make it easier for you!
At Learning Independence for Tomorrow (LiFT) our hope and goal are to provide solutions to your family's specific educational needs through our Lift Academy—serving students Kindergarten through 12th grade and LiFT's University Transition and Day Program. But as many of us know, once you find an amazing school or you figure out the best plan for your student, understanding about scholarships can make all the difference, and that's what we are going to discuss in this month's blog.
As a program of LiFT, the Sandi Lynn Geller Memorial Family Resource Center (FRC) cannot make recommendations for which scholarships to apply for, but we can share information about them so you can do what is best for your family. At LiFT, more than 95% of our students use scholarships to help fund their education and below we will share about the main ones our families benefit from.
Step Up for Student (SUFS) Scholarships[SN1] are the ones we like to highlight. Below you will find the breakdown of the Step Up for Student Scholarships.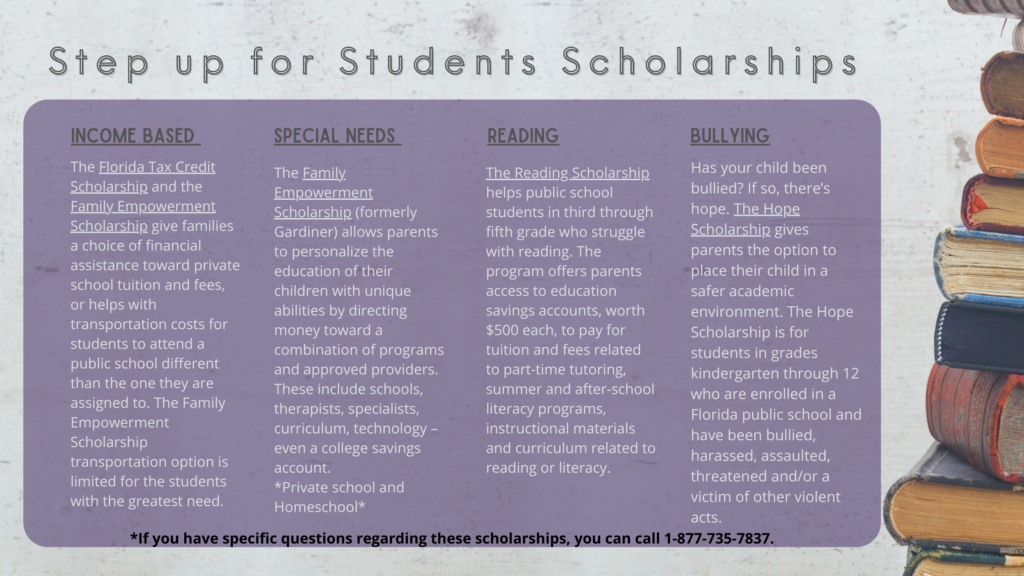 The McKay scholarship was formerly the other scholarship option, but now it is being combined with the Family Empowerment Scholarship under SUFS. To learn about the benefits of McKay vs. FES-UA see the image below: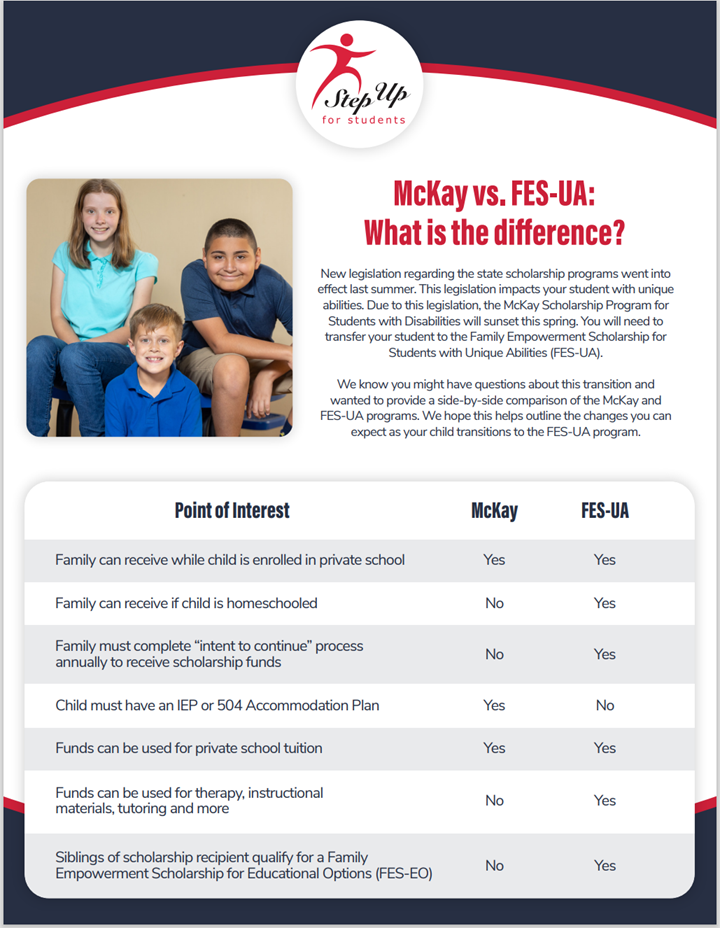 Scholarships can be complicated but having access to the right information and knowing who to call and where to look can make an overwhelming process not so cumbersome. These scholarships are the main ones our current Florida families use to help them support their children and give them their best and brightest futures.
Understanding your options whether you choose to put your child into a private school, charter, public, or if you decide homeschooling is the best choice for you, your child, and your family will help make the decision process easier. ACCESS to the information can make all the difference and that will help relieve your stress, help your sanity, and give you the ability to gift the precious soul you've been entrusted with the education to equip them for their best possible future.
Here at our Family Resource Center, we exist to inspire and empower people with neurodiversity to learn, thrive and succeed. We know that scholarships can help make this goal a reality. We look forward to helping you in that process or at the very least directing you to where you can get the help you need.
Check out the Resource Spotlight of the month highlighting Step Up for Students. It will give you information you need to know for the 22-23 school year!
As always, if you have any resources, services, or providers that your family has benefited from please take a minute to share that information here so we can let other families know about the support that is available in our community.
In this Together,
Ivory Granger
Family Resource Center Coordinator
Sandi Lynn Geller Memorial Family Resource Center
---